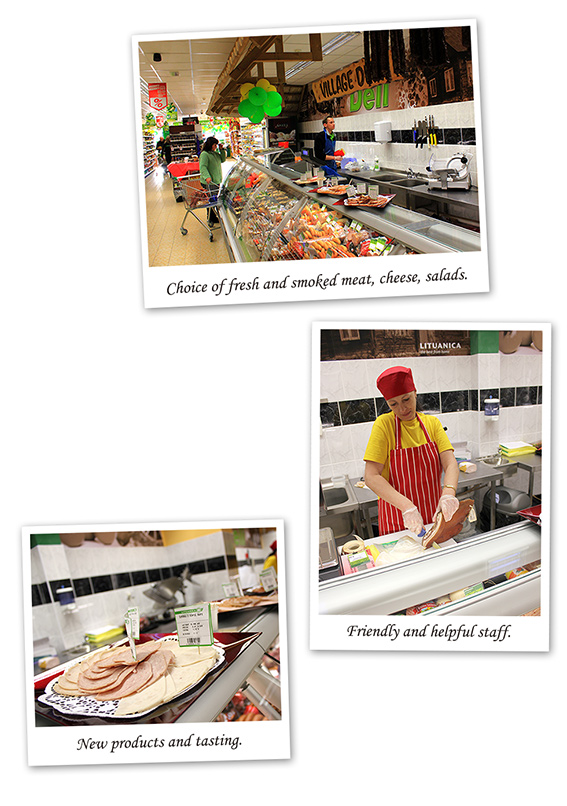 "Village Deli"
At Lituanica shops we have amazing "Village Deli" where you can find large selection of fresh and prepared food. Our skilled chefs and deli staff prepares fresh, handmade, healthy salads, fresh sausages, prepared meals, soups. You can also find large selection of of high quality imported cheeses from Eastern Europe, our deli meats and cheeses,   for your convenience, are pre-packaged or sliced while you wait!
 At "Village Deli" you can find:
Homemade meals to go
Fresh homemade salads
Fresh premade packaged salads
Fresh and smoked deli meats
Large selection of cheeses
Find "Village Deli" at Lituanica shops located in:
Dublin: Blanchardstown, Main street, D-15;
Navan: 9 Canon row, Co. Meath;
Drogheda: Unit 1 Bloomsbury centre, Donore Road,Co.  Louth;
Carrickmacross: 59-61 Main str., Co.Monaghan;
Carrick-on-shannon: 9 Landmark Lane, Co. Leitrim;
Longford: Unit 1, Cuirt Aen Oir, Athlone Road;
Mullingar: Unit 1, West House, Patrick Street, Co. Westmeath;
Rush: 8 Main Street, Co Dublin.